Revolutionizing Learning Experiences
Organizations and educational institutions struggle to provide effective, engaging, and individualized learning experiences. Traditional methods frequently fall short of accommodating diverse learning styles while maintaining the highest educational and training standards. In today's swiftly evolving educational landscape, Learning Management Systems (LMS) have emerged as the cornerstone of modern learning and training methodologies. The unparalleled capabilities of LMS platforms are reshaping the traditional paradigms of teaching and development in both educational institutions and businesses. These systems function as dynamic virtual centers that orchestrate the convergence of content, interaction, and evaluation into a seamless digital experience. LMS is profoundly transforming learning, removing barriers, and propelling education and training into a new era of accessibility, engagement, and personalization. LMS platforms go beyond mere tools; they redefine the boundaries of learning, allowing for on-demand employee training. This promotes continuous development and adaptability, both of which are essential in the current fast-paced business environment.
Unleash the Future of Learning with Our Customizable Learning Management System (LMS)
Soft Tech Group has developed an innovative solution to address the specific challenges that businesses and educational institutions confront. Our Learning Management System (LMS) is at the forefront of this educational revolution, enabling institutions and businesses to embrace the future of learning by releasing the potential of personalized education and targeted skill development. Our LMS is meticulously designed to revolutionize the delivery and experience of learning, providing a comprehensive response to the complexities of contemporary education. This platform provides a multifaceted toolkit to bridge the distance between students and instructors, ensuring a seamless and refined learning experience.
What sets our LMS apart as the best option
Round-the-Clock Expert Support
Our dedicated support team is available 24/7 to address queries and technical challenges promptly.
Strategic Customization
Leverage our expertise to align the LMS with your institutional culture and distinct learning needs.
Seamless Onboarding
Transition seamlessly empowers administrators and users with our comprehensive onboarding guidance.
Continuous Advancement
Stay ahead in learning technology with regular updates to elevate the overall learning experience.
Empower Your Workforce with Our Dynamic Enterprise Learning Management System (LMS)
In today's swiftly changing business environment, the key to success is cultivating a skilled and adaptable workforce. Our Enterprise Learning Management System (LMS) is designed to facilitate continuous learning, upgrading their skills, and professional development for organizations of all sizes. At Soft Tech Group, we understand the importance of a skilled workforce; our Enterprise LMS provides businesses with the tools they need to flourish in an ever-changing business environment.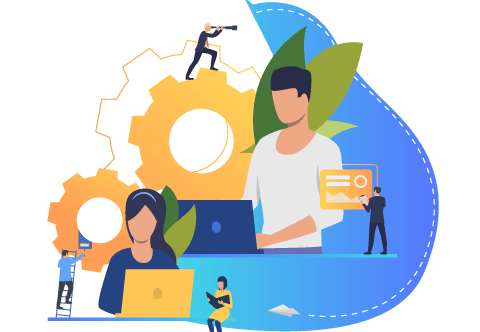 Elevating Workforce Potential

Our Enterprise LMS offers on-demand training and certifications to keep your workforce ahead in their fields. Our engaging content delivery and robust assessment options prepare them for any challenges ahead.

Customization for Impact

Our LMS has customizable features for compliance, leadership, and skills training to align with your organization's objectives.

Thrive in the Business Landscape

Partner with us to create a culture of continuous learning and elevate your organization's success with Soft Tech Group's Enterprise LMS.
Elevate Education with Our Cutting-Edge Academic Learning Management System (LMS)
Our Academic Learning Management System (LMS) is designed to enable K-12 schools and universities to provide seamless, interactive, and enriching learning experiences. At Soft Tech Group, we recognize that every institution has specific requirements; consequently, our Academic LMS provides a comprehensive suite of features designed to assist educators, students, and administrators in their pursuit of excellence.
Unleash the Potential of Academic Learning

Our LMS transforms education with user-friendly content management, interactive assessments, and progress tracking. Collaboration tools connect students to their learning community, in-person or online.

Personalization for Success

Utilize the flexibility of customization to align your LMS with the institution's values and objectives. Integrate a grade book, feedback, and SIS to expedite tasks and enhance the learning experience.

Lead the Future of Education

Join us in shaping the future of education with Soft Tech Group's Academic LMS. Let's create an environment where learners thrive, educators innovate, and institutions lead the way in educational excellence.
The Core Features of Our LMS
Our commitment to fostering exceptional educational experiences has led us to develop a range of cutting-edge features that redefine how education is delivered, accessed, and experienced.
Tailored User Experience
Streamline user access and interactions through distinct logins for students, trainers, and institutional administrators.

Diverse Learning Modules
Immerse learners in an array of content formats, including comprehensive course material, interactive multimedia, and engaging readings.
Interactive Assessments
Empower learners with interactive assessments, facilitate real-time feedback, and foster active participation.
Effortless Tasks Management
Streamline assignment submissions and evaluations, facilitating smooth communication between learners and educators.

Recognizing Achievements
Recognize and motivate learners with certificates upon course completion, bolstering their academic achievements.
Virtual Collaboration
Seamlessly integrates leading virtual collaboration platforms such as Zoom and Google Meet, enabling dynamic real-time interaction.
Monetization Opportunities
Seamless implementation of a variety of monetization strategies using tools such as subscriptions, licenses, bundle offers, memberships, and convenient shopping carts.
Gamified Engagement
Capture learners' attention and drive behavior change by incorporating game-like mechanics such as leaderboards, rewards, badges, and points.
Learning On-the-Go
Empower your learners with the freedom to access learning content anytime, anywhere, with our mobile version of the LMS.